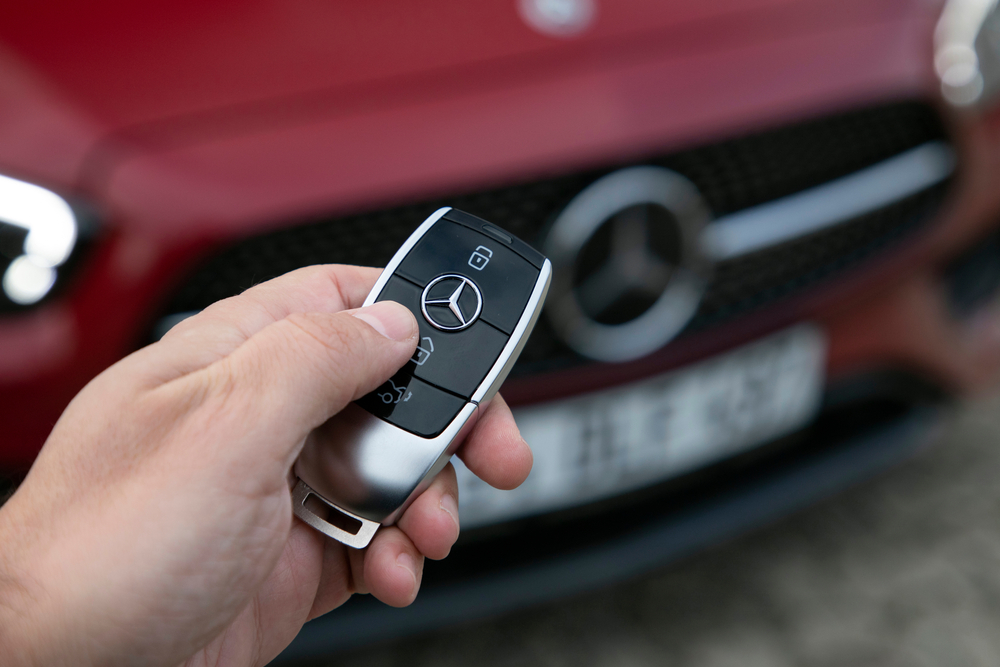 Looking for Mercedes-Benz key replacement? Wondering if you really need to replace your keys or if you can just change out the batteries? All of us vehicle key experts here at Metroplex Locksmith are here to help!
Whether you want a spare key made and programmed to your vehicle or you've lost your Mercedes keys and need new ones, we are the auto locksmith to trust when it comes to everything surrounding Mercedes keys and car key replacement in general.
We come to you if you're in Dallas/Fort-Worth or Hollywood, FL. If not, we still can help you learn more about what you need to do in different situations, including:
Replacing your Mercedes-Benz car key remote batteries
Ordering a spare key fob
Ordering new keys when you've lost them or they've been stolen
Before Replacing a Mercedes Key, Check the Batteries
It's one thing if you've lost your car keys altogether and you need a new Mercedes-Benz key replacement. But what if you think you might need to replace your key because it's not working?
If your Mercedes-Benz key fails to lock or unlock your vehicle doors, or for cars equipped with Mercedes-Benz KEYLESS-START® or Mercedes-Benz KEYLESS GO®, the key fob won't start the car, the batteries could be at fault.
The procedure for how to replace Mercedes key batteries depends on the year and the Mercedes model you have:
Replacing SmartKey® Batteries (Older Mercedes Models)
If your Mercedes-Benz has an older electronic key that you insert into the ignition and turn, then this is likely what you'll need to do:
Find the key blade release switch and slide it sideways. This should let you pop out the key blade.
Turn the key over. Locate the key blade opening at the top of the key (near the key ring) towards the side without buttons.
Push the key blade into the opening. This should pop the back of the key off automatically.
Remove the battery and replace it. It may be helpful to tap the key against a hard surface to get the battery out.
Replacing Chrome SmartKey® Batteries (Newer Mercedes Models)
If your Mercedes-Benz has push-button start, this is likely the procedure for you:
Press the button on the back of the key fob.
Slide the plastic piece off the key.
Pull the battery tray out of the side of the key.
Remove the battery and replace it (most newer models with Mercedes-Benz KEYLESS-START® or Mercedes-Benz KEYLESS GO® take CR-2032 batteries).
What to Do If You Need Replacement Mercedes-Benz Keys
If changing out the battery or batteries in your Mercedes keys doesn't work, or if your keys are simply lost or stolen, then you're going to need to get replacement Mercedes-Benz keys and have them programmed to work with your vehicle.
Can I Replace My Mercedes-Benz Keys Myself?
No. Replacing your Mercedes car keys is not something you can easily do at home due to the complexity of the modern onboard computers that newer Mercedes-Benz models come equipped with.
Can I Find a Locksmith to Replace My Mercedes Keys?
Yes. While traditionally, you'd need to go to an authorized Mercedes-Benz dealership to get Mercedes keys replaced. But here at Metroplex Locksmith, we offer OEM replacement Mercedes keys faster and cheaper than the dealer! Plus, we come to you!
Not sure if you need new keys? Just give us a call – we may be able to help. Sometimes, a replacement key isn't the answer and the vehicle computer needs reprogramming for the keys to work. Other times the ignition needs repair.
Get Same-Day Replacement Mercedes Keys Today!
Metroplex Locksmith can help you get replacement Mercedes key fobs quickly and affordably. With locations in Fort Worth, TX, and Hollywood, FL, we're here to help at a location near you!