Land Rover Car Key Replacement
Metroplex Locksmith is your go-to when it comes to replacing your Land Rover key fob.
There are many reasons for considering a Land Rover key replacement. Whether you are locked out of your ride and need immediate assistance, or perhaps you are updating some of the features affiliated with your Land Rover and therefore are in need of a Land Rover key fob replacement, we have seen all kinds of scenarios when it comes to Land Rover key replacement. And regardless of the make and model of your Land Rover, we can get the job done quickly, efficiently, and at your convenience. 
And that is why you should make us your call if you are in need of a Land Rover replacement key. But to further demonstrate the benefits of partnering with Metroplex Locksmith, here are a handful of considerations.
Keeping Up with Technology
Let's face it, car keys these days aren't like they used to be. In fact, they are more like small computers! From starting your vehicle remotely to popping open the trunk hands-free, your car fob has become comparable to the remote affiliated with your television. 
And like a computer, the technology responsible for making these tools more and more convenient is being updated all the time. And like keeping your phone software up to date, why would you not want your key fob to be up to date as well?
It is important that you update your vehicle's computer as well, keeping your entire ride more modern and as efficient as possible. For this reason above others, Land Rover owners will often replace their Land Rover key fob with one that is more modern, not necessarily only because they lost their previous fob and are in need of a new one.
Same Day Land Rover Car Keys and Remotes
If you are in need of a Land Rover key fob replacement, then there is nothing worse than having to wait. This is especially the case if you are locked out of your vehicle, or there is some other type of emergency. 
We can get your Land Rover replacement key to you on the same day that you reach out to us. 
We understand the urgency of having your Land Rover key replaced immediately, and can deliver faster than if you were to turn to a dealer. Additionally, we are cheaper as well. That's right—faster and cheaper. What's not to love?
But we provide more conveniences than just same-day Land Rover key fob replacements. For example, here are some of the additional benefits of partnering with Metroplex Locksmith:
Faster and Cheaper Service Than The Dealer

OEM Factory Keys and Remotes

Risk-Free Computer Programming

We Come To You Anywhere In The Ft Worth Areas
These are only a handful of the benefits of partnering with Metroplex Locksmith, as we do more than simply provide new keys for your ride. Sure, we have the best key fob replacement team for Land Rovers and all sorts of other vehicles (foreign and domestic), but we provide many other services as well. 
The biggest of them all—Convenience. We bring the service to you, taking away your stress and not adding to the difficulty already on your schedule. Like we said, we understand the urgency associated with needing a replacement key fob for your Land Rover, and we want to make it as simple for you as possible.
Your Trusted DFW Car Key Experts
If you are in need of a Land Rover replacement key, then partnering with Metroplex Locksmith is your best move. So if you are wondering where is the best Land Rover key fob replacement near me, Metroplex Locksmith offers a fast, convenient, and affordable car key replacement service in the Ft Worth area. 
Our Experienced, Bonded and Insured Locksmiths are true car key experts so you're guaranteed to get the job done right and for up to 50% less the dealer would charge. We can come to you asap or you can come down to our store at your convenience. How can you argue with that? Give us a call today.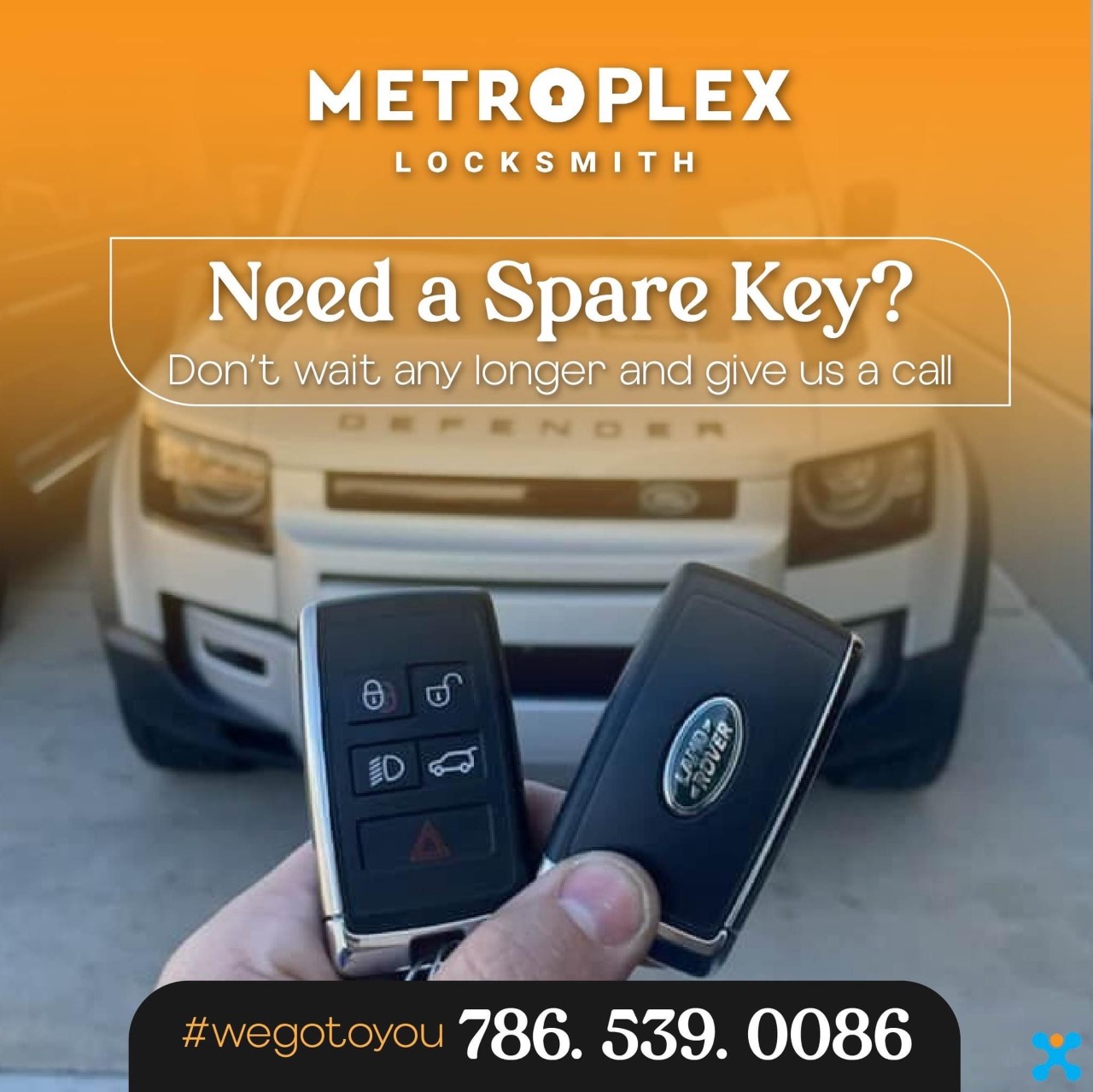 Getting Your Land Rover Replacement Key Fob  Is Fast and Easy
Getting a Land Rover fob replacement near you should not be difficult. It should be fast and easy, and we have ensured that the process is precisely that. Here is a simple step-by-step look at partnering with Metroplex Locksmith and getting a Land Rover key fob replacement:
Call us and let us know the year make and model of your Land Rover, and we'll provide you with a no-obligation quote.
Visit one of our shops in person or schedule an Experienced Car Key Locksmith to come to you anywhere in Ft Worth areas. It doesn't get easier!
Drive away with a quality Land Rover replacement car key or remote at a great price. 🙂
Reach out to us today, or swing by and speak with one of our experts about the benefits of a Land Rover key fob replacement, or any other item. We are always available to help you out, whether it's an emergency or you are looking to schedule some routine maintenance down the road.
Metroplex Locksmith makes your key replacement needs easy.
Visit Our Store or Call for Land Rover key replacement service in the Ft Worth Texas area.
Give us a call
Let us know what you need help with and we'll give you an accurate quote on the phone.
We'll get it done
We'll send one of our locksmiths to your location ASAP or you can come by our store.
Get you on your way
Our locksmiths work carefully and efficiently so you'll be back on the road in no time at all.
We Are Always Happy To Help Our Amazing Customers
At Metroplex Locksmith we understand that you may lose or break your car key at the most awkward times, which is why, aside from all our other services, we offer our exclusive mobile locksmith services. Our mobile service will bring everything you need for car key replacement or key fob reprogramming and anything else you may require, straight to your location. Our expert technicians will be happy to help you wherever you may be in the Ft Worth area, so you will never be left outstanding in the cold. You can also visit our store to check out our great selection of key fobs, remote controls, and much more. So don't hesitate, if you need your car key replaced, give us a call today!