Ft Worth Car Key Replacement
Need Car Key Replacement in Ft Worth? Call Us Today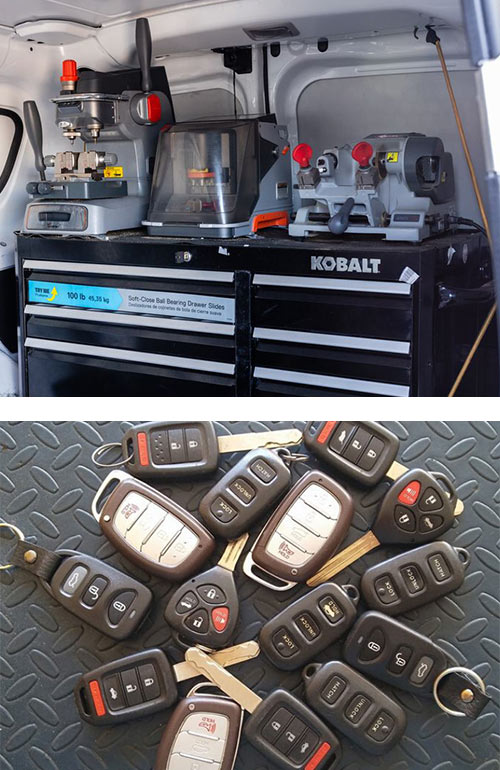 Have you ever lost your car keys? Or has your key fob died? It's a nightmare scenario. You're running late for work and you can't find your keys anywhere. 
You look under the couch cushions, in between the car seats, and in all your pockets, but they're nowhere to be found. Or, you go to unlock your car after a long die, only to find your key fob has died. You need a trusted locksmith to help you with a car key replacement in Ft Worth, stat! 
A lost or broken car key or key fob is nothing short of frustrating, and finding the right locksmith to replace it can give you a headache you don't need. At Metroplex Locksmith we understand this better than anybody, especially in reference to car key replacement in Ft Worth. That's why we offer the most reliable, well-trained, and up to date services to help you save time and money replacing one of the most valuable keys you own.
We are the leading provider of key fob and car key replacements in Ft Worth. We can have a new key or fob made for you in no time, so you can get back on the road. 
How Does Car Key Replacement Work?
In many cases, car key replacement means using machinery to craft a new key that is identical to your old one, but which will work correctly in place of the one that has broken. But these days many cars no longer use a traditional key. In their place, key fobs are becoming more and more popular for a variety of reasons, including their ability to work at a distance and start your vehicle with a single push of a button. 
And while key fobs are widely accepted and work nicely, they do have a downside, which is the fact that they need batteries to operate correctly. So, what happens when your key fob's batteries die? At Metroplex Locksmith we can fix that too! Simply bring in your key fob and we will gladly change the battery for you.
Our Main Ft Worth Automotive Locksmith  Services
At Metroplex Locksmith we specialize in a wide variety of services, including:
Lost key replacement

Remote head keys

Intelligent keys and smart keys

Car key replacement

Transponder key cutting

Car key copy

Lost car keys

Key fob replacement

Key fob programming

Key fob battery replacement

Car remotes
We specialize in all national and foreign car keys, including German models, including Infiniti car keys, Honda car keys, Toyota car keys, Nissan car keys, Chevrolet car keys, Saab Car keys, BMW car keys, Land Rover car keys, as well as car remotes, remote head keys, and much more!
Making Car Keys Requires Cutting Edge Technology
We believe that a job well done is a job that will keep our customers coming back when they are in need of new car keys, remotes, and auto locksmith services. We use nothing but the highest quality car keys and key fobs, and to prove this we also extend a 30-day warranty on every job we perform. This is why we're one of the most trusted providers of key fob replacements in Ft Worth.
Additionally, our techs will always be on top of the most recent technologies, including smart keys and car key programming. To this end, we make sure they are constantly training and updating their knowledge of their craft. At Metroplex Locksmith we only work with licensed and insured technicians, which means that, when you need auto locksmith services, you will get nothing but the best techs in the Ft Worth area. When it comes to key fob replacements in Ft Worth, we're here for you.
Give us a call
Let us know what you need help with and we'll give you an accurate quote on the phone.
We'll get it done
We'll send one of our locksmiths to your location ASAP or you can come by our store.
Get you on your way
Our locksmiths work carefully and efficiently so you'll be back on the road in no time at all.
Why Metroplex?
At Metroplex Locksmith, our number one priority is providing outstanding customer service. We're a local company providing car key and key fob replacement in Ft Worth, and we're committed to taking care of our community.
We know how important it is to have a reliable locksmith you can count on, and that's why we're always eager to assist you with all your key fob replacement needs in Ft Worth. Wherever you are, you can rest assured that we'll provide professional, top-quality service. We value our customers, our communities, and we work hard to build lasting relationships — so if you're ever in need of a locksmith in Ft Worth, Metroplex Locksmith is the team to call!
We Are Always Happy To Help Our Amazing Customers
At Metroplex Locksmith we understand that you may lose or break your car key at the most awkward times, which is why, aside from all our other services, we offer our exclusive mobile locksmith services. Our mobile service will bring everything you need for car key replacement or key fob reprogramming and anything else you may require, straight to your location.
Our expert technicians will be happy to help you wherever you may be in the Ft Worth area, so you will never be left outstanding in the cold. You can also visit our store to check out our great selection of key fobs, remote controls, and much more. So don't hesitate, if you're in need of car key replacement in Ft Worth, give us a call today!