About Metroplex Locksmith
We are a locally owned company established in 2012. We provide automotive locksmith services to the Dallas–Fort Worth and Arlington, TX area.
Our main goal is to provide unmatched customer service both to the client and your customer. You will appreciate the value of our professional approach to all your automotive needs. Our experienced staff will always be eager to assist you. We look forward to being your reliable business partner when your locksmith needs arise
Our business relationships with clients are warm, friendly, and sincere. Our valued clients count on us to deliver excellent service and we're obliged to deliver above and beyond! We want every interaction you have with Metroplex Locksmith to be refreshing and delightful; especially given the circumstances that brought you to us! We eliminate stress or incident.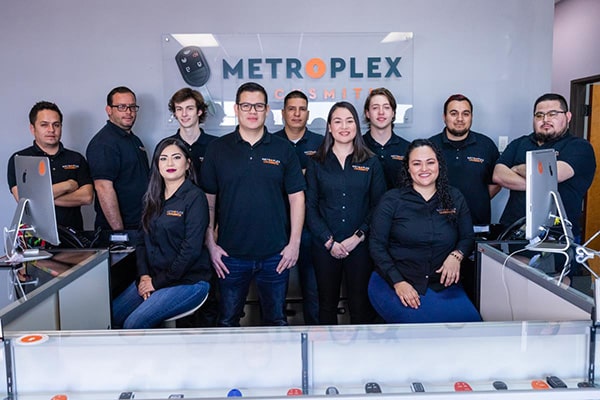 What Our Customers Have To Say...

Lucas Mccullough
23:03 19 Sep 20
Excellent service for a Saturday


Khari Brown
22:41 18 Sep 20

Sam Podolsky
00:42 17 Sep 20

Aaron Waldo
22:16 16 Sep 20
Fast service, 100 % professional. Jose Leyva took care of my situation so fast it didn't even cause me a delay. Thanks again for getting me taken care of today.

Chris Carroll
22:14 16 Sep 20
I am currently sending their contact info to all my friends, I cannot stop bragging about this company. Quote on the phone was precise. Very professional and respectful technician. Dispatch woman was so nice. Call these guys first. Don't fuss with any other company.

Alysa Mcmillan
18:05 16 Sep 20
These guys are amazing. Jose Leyva came out, not just on time but early, and really helped us in a pickle. Got a new key cut and programmed, and did it for over $100 cheaper than what the dealership was going to charge. They come highly recommended in my book.

Shawn Walker
15:54 16 Sep 20
Eliceo was on point. Appreciate the service 🤟

Jesse Vivanco
22:58 14 Sep 20

Kassandra Canales
03:51 13 Sep 20

sed kinney
21:12 12 Sep 20
Cassandra was amazing with handling my situation. She was very professional and understanding and reasonable. Thank you for all your help!

Billy Ward
20:26 12 Sep 20
Very friendly, everything done in a timely manner. Wonderful customer service. Would definitely recommend people to this place

Ashley Corella
19:20 12 Sep 20
They were a little late, but also day after holiday. They went straight to work and were well prepared and had our new key very quick and efficiently. UPDATE: I completely understand the being delayed, the day after Labor day, especially since Juan is your speciality guy and trust me he did an awesome job and your company will be the only one I use.

Michael Crase
15:54 12 Sep 20
Very nice and professional.

steven van brunt
16:57 10 Sep 20
From the initial phone call with Nadia to the service, they came to my office in less than 30 mins Great and fast service. I work for a very established insurance company. I will definitely refer customer to your company. Juan was my tech very knowledgeable and very profesional. Thank you!

ISELA MURILLO
18:48 08 Sep 20

Zay Fresch
19:37 05 Sep 20
Jose was more than helpful

pa TROLLing
19:18 05 Sep 20

Aníbal Domínguez
00:42 05 Sep 20
They came the same day I called, made a new key fob and programmed it by the next day, very professional

Kelly Lusk
21:23 04 Sep 20

John Tallie
23:16 03 Sep 20
Marco was awesome, they got here before the scheduled time and started working on it. Very professional.

Robert Cisneros
20:40 03 Sep 20
The staff there is very nice I messed my key fob up for my car and was going crazy and somebody told me call them so I called and I'm glad I did got my new key oh they super fast too

Lorenzo Oney
14:58 03 Sep 20

Stefan Leu
21:11 02 Sep 20
Tech was great,fast,called at 1:00 and met me onsite. Had new key by 2:15.Great service and cheaper than the other guys I called.

My key fog broken and I needed a new one I call metroplex locksmith and they was really professional and quick thanks you metroplex locksmith for great friendly service.

Derrick Gibson
18:19 02 Sep 20

Eloyd Estrada
21:42 31 Aug 20
Great job and very quick with on site work. Great work and would love to use them again.

Athen Harrington
21:12 31 Aug 20

Osvel Álvarez
15:13 31 Aug 20
The guy showed up on time and got straight to the job

Diamond Sterling
22:54 29 Aug 20

Lawrence LaBee IV
17:53 29 Aug 20
Abraham was my technician and I love the guy he worked out well and did his job super quickly it took less 5-10 minutes I will definitely be coming back for more things I need done.

Julian Murakami
17:22 29 Aug 20
Great service....they are actually cheaper than the dealership! Got the job done and got me back on the road quickly....Easy two thumbs up!!!

Laderric Washington
14:21 27 Aug 20
Very professional customer service from Jasmine, she repeated all of the information I had given her back to me so she could make sure everything was correct. After hanging up with her the technician called within 3 minutes to let me know he was a short amount of time away which was perfect and made me feel a lot better. Great professional and very affordable company!


Great service from Jose leyva

Pacino GoldenAge
21:25 25 Aug 20
I called about my key, and within 30 minutes they were already calling me to state that they were outside to fix my key. Only took the gentleman about 30 minutes and he was done. Fast and friendly service.

Clara Vega
19:25 24 Aug 20

Enriqueta Barena
15:39 24 Aug 20

Crithian Huerta
23:15 22 Aug 20
Llame a vario lugares y nadie me respondió esta compañía excelente servido al cliente y Edgar fue amable y muy profesional

rocio Sandoval
22:06 22 Aug 20
Juan was great! My key fob broke and the chip that starts the car was lost. Called Metroplex they had the key in stock made an appointment at 4pm and Juan was at my house by 6pm. New key by 6:30 pm. Couldn't ask for better service!

Andrea Lewis
02:17 22 Aug 20

Matt Barrier
18:32 21 Aug 20
They were very accommodating and made the process easy. They worked around my available times and met me at my apartment. I would recommend.

Ellie Gilbert
16:24 19 Aug 20
quick prompt service by technician Juan Haros highly recommend

Dave Anderson
16:52 18 Aug 20
My technician, Junior, was both friendly and professional. Their service is second to none.

Cody Williams
21:26 17 Aug 20
Super quick and easy process! Lost my key on a night out and assumed it would take a week to get a new key, and then another day on top of that to take the car to the dealership to be programmed. Instead everything was done in a day and I never had to leave the house! Everyone we spoke to was very nice and incredibly helpful. 10/10 would use this place for any car key issues (or other services provided). Thanks Metroplex Locksmith!

Jesse Studebaker
22:07 15 Aug 20
Trust Our Affiliations. Trust Us.