About Metroplex Locksmith
We are a locally owned company established in 2012. We provide automotive locksmith services to the Dallas–Fort Worth and Arlington, TX area. Our main goal is to provide unmatched customer service both to the client and your customer. You will appreciate the value of our professional approach to all your automotive needs. Our experienced staff will always be eager to assist you. We look forward to being your reliable business partner when your locksmith needs arise Our business relationships with clients are warm, friendly, and sincere. Our valued clients count on us to deliver excellent service and we're obliged to deliver above and beyond! We want every interaction you have with Metroplex Locksmith to be refreshing and delightful; especially given the circumstances that brought you to us! We eliminate stress or incident.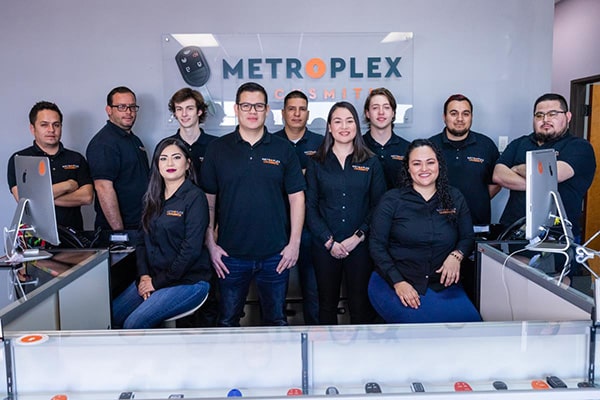 What Our Customers Have To Say...

christie jones
22:24 05 Aug 20

Elizabeth Hernandez
22:02 04 Aug 20
Jose was professional and on time! Great customer service.

Misty Soard
20:59 03 Aug 20
Jose with metroplex was Fast and friendly. Very happy with service. Will recommend no doubt.

Stephen Perez
22:49 01 Aug 20
Lost the key to the truck, Jose and Jose came right on time. They were very friendly and worked fast loved the service. Will call again if I lose another key

Alfredo Martinez
21:35 01 Aug 20
Got to my location started right off working And got the job done in a timely matter. I highly recommend Juan Haros!

Joshua Barksdale
18:14 01 Aug 20
Jose and Jose came to my room in very efficient time and were friendly and helpful they save me the time and effort of making another key for my 2006 acura rsx they did it quickly and cost friendly I would recommend others use there service I was surprised how inexpensive it was to make spare key they programmed it and it worked

Christian Doddridge
22:43 31 Jul 20

Steffani Mendes
22:34 31 Jul 20
Manny was awesome, quick and on it!

Shamkea Khalid
17:53 30 Jul 20
Did a good job and was very polite and kind

Trista Johnson
22:29 29 Jul 20

Jennifer Williams
15:17 29 Jul 20

Gregory Taylor
18:46 28 Jul 20

Mary Velez
00:52 28 Jul 20
What a amazing lock smith company! I was referred by a friend and will never need to use another service again. I'm very pleased with their response time and customer service!

Devon Thompson
21:04 27 Jul 20
Very affordable locksmith and very friendly front desk people as well. Been w out my key since Friday and they got me back riding again! Thanks Metroplex

Nacole Jackson
19:34 27 Jul 20

Brittany Askew
18:51 27 Jul 20

Global Ass
18:07 27 Jul 20
Came right out and got it did with no problems and for a reasonable price...LOVED IT‼️

KATRINA BRANCH
21:46 25 Jul 20
Eliceo , did great,fast ,friendly , and very nice,i would definitely recommend him to anyone .Thank you

Tiara Sims
21:27 25 Jul 20
Eliceo was great.friendly fast and knowledgeable!thanks again.

Jose and Jose did a wonderful job !!!!! Out of 3 other locksmiths they can right on out and got the job fixed ! I will most definitely refer then to anyone.

Jesstee Ashton
18:29 25 Jul 20

Arlecia Gowdy
17:36 24 Jul 20
Edgar came and was very quick, friendly and professional! Lost my original key 🔑 and they came out very promptly to make me another! Recommend this place 100%

Jose Ramos
16:53 24 Jul 20
Great service all around and they are fast

Corye Smith
22:39 23 Jul 20
The guys showed up and did and did a great job very professional I will recommend them to anybody

Rachard Harp
20:57 23 Jul 20

Kevin Chapman
19:33 23 Jul 20
On time ... Great Service... Will continue to do business again.

Daniel Carcamo
15:28 23 Jul 20
Had a great experience very professional good with communication and was earlier then expected witch was great. I recommend this company all the way.

Angelina Zuniga
19:18 21 Jul 20
Very professional and efficient

Robyn Howard
20:14 18 Jul 20

Brad Rupay
22:40 17 Jul 20
They were very fast and nice to deal with. They set me up with a appointment very fast and handled everything

Kyle Eberle
18:47 17 Jul 20
The service was fast and Eliceo was very professional. I would recommend this company

richard reyna
18:03 16 Jul 20
Davis was great! Very responsive and came out quickly.

Destiny Pompa
22:08 15 Jul 20
They came minutes before i was expecting them driver was very sweet and made sure his services were done

brittiney smith
23:02 13 Jul 20
Davis did a great job. Request him.

Jonathan Musgrave
20:00 13 Jul 20

Courtney Hedge
19:42 13 Jul 20
Junior and Bryan were on time very respectful and honest. They went to the truck and made the key with no problem i wouldn't mind recommending to a friend or family member

Robert Rivera
15:00 13 Jul 20
Davis very good treatment and friendly I recommend them

Pedro Gonzalez
15:17 11 Jul 20

myesha hunter
18:02 10 Jul 20

LxvelyNiyah 1_
19:46 09 Jul 20
I lost the only key to my '07 Corolla and I had to be at work in a couple of hours. I called these guys, and they had Diego out to my house within 10 minutes and gave me a new key even faster. Great service and great guys.


Andre Kelly
19:44 08 Jul 20

Kimberly Timmons
21:09 07 Jul 20

desmond wordlaw
19:14 07 Jul 20
I was able to get same day services, they arrived early to make sure I made my appointment!!! Fast, friendly and reasonable prices!!!

Shalandra Thomas
21:29 01 Jul 20
Fast service, clear communication, job well done, amazing value for your money and time.

Janet Vickrey
17:59 01 Jul 20
They were able to help me out, the price was not crazy as I called around other locksmiths.

Tommy Garcia
17:43 01 Jul 20
Trust Our Affiliations. Trust Us.