About Metroplex Locksmith
We are a locally owned company established in 2012. We provide automotive locksmith services to the Dallas–Fort Worth and Arlington, TX area.
Our main goal is to provide unmatched customer service both to the client and your customer. You will appreciate the value of our professional approach to all your automotive needs. Our experienced staff will always be eager to assist you. We look forward to being your reliable business partner when your locksmith needs arise
Our business relationships with clients are warm, friendly, and sincere. Our valued clients count on us to deliver excellent service and we're obliged to deliver above and beyond! We want every interaction you have with Metroplex Locksmith to be refreshing and delightful; especially given the circumstances that brought you to us! We eliminate stress or incident.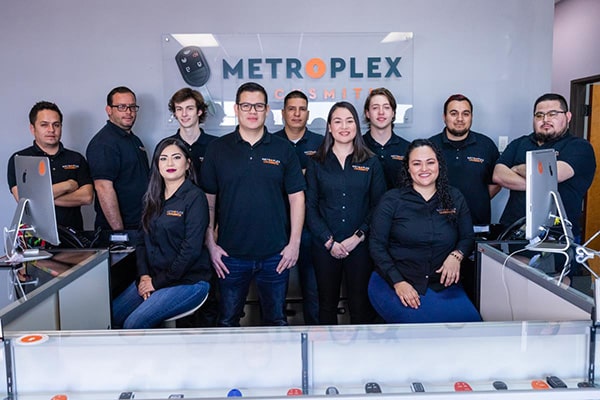 What Our Customers Have To Say...

jeremy Polty
16:01 20 Nov 20
When I called and spoke to the lady she was very informational She was very nice and we set up an appointment excellent customer service I'm looking forward to doing more business with this company

Shawn Gooden
20:36 18 Nov 20
Heriberto helped me and did an amazing job with my car!

Alaina Aguirre
22:43 17 Nov 20
The service was fast and friendly and much more affordable than taking my car to the dealership! Would definitely use them again and would recommend any friends and family to use their service as well!

Tabitha Hipp
21:54 16 Nov 20

I had a good customer service, they answered the phone fast enough and got straight into business. They gave me the information that I needed and were a great help.

Leonardo Alvarez
16:21 14 Nov 20
They were very nice and polite over the phone and helpful with what we needed to get done.... Got a quick quote with no hassle.

Harvey Sowels
01:20 13 Nov 20
Very good service. Jose Leyva was the technician and everything was quick, professional.I recommended 100%

Elias Barroeta
20:11 09 Nov 20
My mom seen this ad on Facebook and I really needed to get my car fixed for work this week. Dealership was gonna charge in total $500 just to replace a new key fob and to reprogram my key to my vehicle. I called and talked to mrs. Cassandra , who helped me with a lot of questions and quotes ..... when my technician Omar came , he immediately told me ahead of time that I needed to key fob . Which then he gave me some information that I didn't know about my key fob. He did an amazing job with fixing my car 😊 I would most likely suggest this company to all my friends and family .

Brianna Cepeda
15:43 06 Nov 20
Eliceo helped me and did a great job. I highly recommend him.

High recommend this company! I called around. Best price by far! Technician Brian was very quick to respond. Service only took 5 mins!! Thank you Metroplex locksmith!

Brittany Trigo
23:13 02 Nov 20

hadji badji
19:11 31 Oct 20

Tamisha Smith
19:06 30 Oct 20
Thank you to Omar Ríos for helping me with my key! Wonderful service! Professional and on time!👍


donald reed
20:55 29 Oct 20
I highly recommend them. Great price, fast service, my locksmith technician (Jose Leyva) was very professional and informative.

Saul valdez
18:45 29 Oct 20
I seen this ad on Facebook and the reviews were great. So we had a big issue with losing the key. Called the #800 number spoke with Cassandra she was very pleasant and understanding on the type of services needed. The gentleman that was sent out (not for sure of the names) were friendly, professional and open to give additional information when we asked. I asked them for business cards I will be passing them out and using this services again soon. Thank you Metroplex Locksmith for being reasonable at a time that we live in. People funds are limited really appreciate it.

Evelyn Wyckoff
21:32 28 Oct 20
Omg, I would like to give a big shout out to metroplex Locksmith they saved my life today!!! I lost my key and I called the dealership and they wanted over $300, which is CRAZY but my best friend told me to give them a call which I did and they were out within 45 minutes, both employees had my car up and running in not time!! Thank you again to both of the guys that helped me out today.... I will used/recommend this company to everyone!!!

Shiquita Forrest
02:00 28 Oct 20
Great service and prices. Helped my friend out, Defly recommend and will use them again.

Heather Nealy
01:55 28 Oct 20

Marcia Bonilla
21:20 26 Oct 20
I have no complaints the young man the name of Heriberto Arriaga was very Respectful and Courteous and on time as a matter of fact he came about 10 minutes early I would recommend him to anyone for services needed..Thank you so much Heriberto A.

Brenda Ladkin
16:51 26 Oct 20
Awesome company! Dispatch lady was such a great help and answered all my questions. They were able to get to me ASAP. Technician did a great job. Will definitely be recommending to my family & friends. 10/10 job!

Edith Sanchez
22:03 24 Oct 20
Great customer service and fast service

Jalisa Combs
19:17 24 Oct 20
Had a great experience with them Omar was very professional and timely 10/10

leonel pavon
19:16 23 Oct 20
Nice telephone receptionist, easy to set appt, and prompt service.

Linda Young
19:50 21 Oct 20
They were very helpful and professional and priced right for the service they offer highly recommend

Ryan Hebert
18:41 21 Oct 20
Jose got me right with a new key

Malik Ferguson
21:06 17 Oct 20

Deja Maston
20:27 17 Oct 20

Laronda Davis
19:43 17 Oct 20

Antonia Henry
19:40 17 Oct 20

Tyler Batts
15:40 17 Oct 20
Good customer service, very friendly I lost my keys and they showed up just on time

rafael ambrociol
15:03 17 Oct 20
It was so nice to work with a responsive and professional company. I called the other day because I lost my keys to my Honda Odyssey (and didn't have a spare). I was able to talk with someone right away (not a given these days!) and she gave me a price over the phone and told me that someone could come out within the HOUR! The guy came out and he was super nice and easy to work with. Will definitely call them again if needed!

Kristen Brown
00:48 17 Oct 20
Mr HERIBERTO came right away. He was very professional and new exactly what he was doing.I would recommend this place to anyone with any auto lock issues.ALSO they're the cheapest in the area . Trust me I called EVERYONE


Asende B. Eloco
17:02 16 Oct 20

Robert Williams
21:19 15 Oct 20
Bradley completed the job quickly! He was extremely professional and friendly. Not to mention the cost of the service was almost half of what I would have paid with the other companies I price checked.

Rob Redditt
23:22 14 Oct 20
It was good service. I believe my technician was Bradley. He was great

Sarai Genevieve
21:12 13 Oct 20
Used to other Locksmith companies finally contacted this one and they fixed the problem right away. great service and super fast thanks to Heriberto Arriaga. Will definitely recommend to other friends and family.

Mayra Carmona
17:28 13 Oct 20
The customer service was amazing. They cost less than some of the other places and are willing to travel. I'll recommend them.


Autumn Walker
21:12 10 Oct 20

miranda edwards
22:45 06 Oct 20
Fast service and very professional.

Shishir Gautam
20:43 05 Oct 20
George and Jose were fast and straight to the point and also had amazing customer service, highly recommend doing business with them

Dylan Estrada
21:52 03 Oct 20
Awesome service really cool guy my second tome coming to him heriberto awesome service

David Luevanos
21:37 02 Oct 20
Very professional service

Aidil Fikri
15:17 01 Oct 20
Tech Juan Haros did a great job

Trust Our Affiliations. Trust Us.